---
---
Opava, kostel sv. Václava
3rd subscription concert in Opava
Joseph Haydn
Symphony No. 90 in C major Hob. I / 90
Wolfgang Amadeus Mozart
Piano Concerto No. 26 in D major "Coronation", K 537
Ludwig van Beethoven
Symphony No. 2 in D major, Op. 36
Jean-Efflam Bavouzet – piano
Janáček Philharmonic Ostrava
Gábor Takács-Nagy – conductor
The turn of the eighteenth and nineteenth centuries was extraordinary in music. The first Viennese school gave the world genius composers – Haydn, Mozart, Beethoven. They all worked in Vienna, the symbolic cradle of classical music.
The oldest of the famous trio, Haydn, is the father of the symphony because he fixed its respected form. Symphony No. 90 was commissioned from him by Count d'Ogny, and the composer took into account the capabilities of French instrumentalists. The work is characterised by a typically Haydn-like playfulness and melodic invention and so promises to be an excellent experience.
Mozart, a genius musician who enjoyed great respect from his contemporaries, was already composing at the age of five. He travelled and performed throughout the whole Europe. At the age of eleven, he played in Brno for example, in today's Reduta. He loved the life of freedom, so he became a freelance artist which was redeemed by health and financial problems. The Piano Concerto No. 26 in D major "Coronation" is still played by the world's leading pianists. Interestingly he did not finish the left hand part and that's why some details were added by his students and publishers.
The evening will be closed by the equally brilliant Beethoven. His Symphony No. 2 in D major belongs to his early works and thus logically approaches his earlier models. Even so, it displays mastery and unparalleled talent.
Do not miss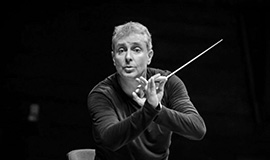 Lukáš Vondráček will perform the Grieg´s Piano Concerto.
Opava, kostel sv. Václava
---
---
---