---
Principal conductor
Vassily Sinaisky
Chief condutor and musical director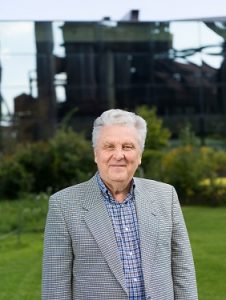 He first conducted the JPO in December 2018. Not even a year has passed, and he took over the production of Brahms and Suk for the opening concert of the JPO's 2019/2020 season. For the next season 2020/2021 he was offered the position of the chief conductor, which he accepted with the words: "Personally, I was very pleased by the offer. After my time with the Malmö Symphony Orchestra in Sweden, in Russia and with the BBC Symphony Orchestra in England, the Czech Republic is a new country with new challenges. All my life I have loved and admired the music of Janáček, Martinů or Dvořák. I am very glad that I will have the opportunity to get to know your culture and Ostrava better here in the city."
"Chief conductor is a completely fundamental personality in the existence of any orchestra. We had a clear vision how his profile should look like. He has to be an experienced artist who will be working with the orchestra, using all of his opportunities and who will be pushing his abilities even further. Vassily Sinaisky is one of the most interesting people who we have ever worked with. He is convinced that JPO has the potential and that we can do a lot of interesting work together," adds the director of JPO Jan Žemla.
Vassily Sinaisky was born in 1947 in the city of Inta, Komi Republic in Russia. Since his early life, he worked hard to be a pianist and conductor, and today he is considered one of the greatest Russian conductors. He lives in Amsterdam on a long-term basis. He became famous because of the performances of Russian, German and English repertoire. Between 2010 and 2013 he was the Chief Conductor and Musical Director of the Bolshoi Theater in Moscow. From 1996 to 2012, he was the Principal Guest Conductor of the BBC Philharmonic Orchestra, with which he is today the Conductor Emeritus – as he is with the Malmö Symphony Orchestra. He has conducted symphony orchestras in London, Vienna, Berlin, Houston, Sao Paulo, Seoul, and St. Petersburg. He has performed all over the world. "I play the piano since my childhood, my mother wanted it that way. But when I was fourteen, I decided to pursue conducting after watching many concerts. I entered a conservatory and attended conducting classes since I was sixteen. When I was young, I especially liked live performances. A concert, that's the peak of conductor's career, the highest honour. Of course, even today I'm curious what that particular evening will be like, how the orchestra will sound, but the preparation, the process of going through the sheet music and diving deeper and deeper into the music. When you're working with an orchestra, you're looking for different details for the given group and the given instrument – for me, now that's the beautiful and crucial process."
His predecessors were Heiko Mathias Förster, Theodore Kuchar, Petr Vronský, Christian Arming, Dennis Burkh, Leoš Svárovský, Tomas Koutník, Otakar Trhlík, Václav Jiráček, Josef Daniel, Jiří Waldhans and Otakar Pařík, who in 1954 was appointed the first-ever head of the then Ostrava Symphony Orchestra.
Downloads
---
---
---