---
---
Opava, kostel sv. Václava
4th subscription concert in Opava
Felix Mendelssohn Bartholdy
The Hebrides, Op. 26

Edvard Hagerup Grieg
Concerto for Piano and Orchestra in A minor, Op. 16
Paul Hindemith
Painter Mathis
Lukáš Vondráček – piano
Janáček Philharmonic Ostrava
Pierre Bleuse – conductor
Felix Mendelssohn-Bartholdy, one of Germany's most important Romantic composers, was like Mozart, hailed as a child prodigy. He was drawn to music from an early age. He composed his first work at the age of 13. He travelled widely, fell in love with Britain in particular where he successfully conducted his concerts. He also met Queen Victoria. It was the visits to Britain that inspired him to write the prelude to The Hebrides, also known as Fingal's Cave.
Grieg is Norway's greatest composer, so logically his music often features folk motifs. He was inspired by nature and influenced by Mozart and Chopin. He composed his unique Piano Concerto in 1868. He worked on a second piano concerto, but did not complete it and so this piece remains unique and isolated. In 1909 this concerto was recorded as the first ever composition of its kind. However, undeveloped technology allowed only six minutes of audio to be recorded.
Hindemith was inspired to write one of his most famous symphonies by the painter Mathis, an important figure in German Renaissance painting and a representative of late Gothic expressive spiritualism, whom he composed a piece about in 1934. Originally intending four movements, he eventually wrote three which have the subtitles: The Angel Concerto; Laying in the Grave; The Temptation of Saint Anthony. The reception was warm. But when the symphony was later conducted by Wilhelm Furtwängler, he faced harsh criticism from the Nazi government because Hindemith's compositions were dismissed as "degenerate" and "Jewish".
Do not miss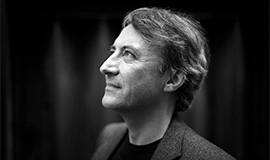 The first Viennese school gave the world genius composers – Haydn, Mozart, Beethoven. Mozart's "Coronation" will be performed by pianist JeanEfflam Bavouzet.
Opava, kostel sv. Václava
---
---
---