---
---
The top piano is already in its new Ostrava home
The need for a new piano arose gradually along with outstanding guest soloist and their demands, the inclusion of a new cycle of piano recitals, and, of course, in connection with the effort to provide the listeners of the JFO with the best possible sound. The purchase of a new piano was planned for several years. De facto only the Steinway brand meets the universal parameters of a solo instrument for world concert halls. Although JFO already owns one Steinway, it is not suitable for the interpretation of compositions from different times.
The new Steinway&Sons piano arrived in Ostrava on March 2, 2020.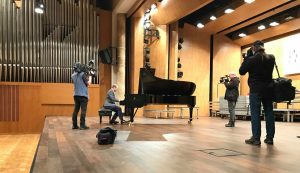 The director of JFO, Jan Žemla, recently went to Hamburg along with two pianists Lukáš Vondráček and Ivo Kahánek to choose a great sound instrument which would be suitable for DMKO premises, and, simultaneously, is suitable for performing music of 19th and 20th century.
I invited two pianists who have some relationship to Ostrava and JFO, who know the premises. I know them and appreciate their artistic opinions and values. Moreover, both are currently the most active Czech artists. I am talking about Ivo Kahánek and Lukáš Vondráček. For both of them, I was sure we could not make a mistake. After all, you do not choose such a tool every day and blame the next 10 years for being underestimated was inadmissible for me. Due to the workload of Lukáš Vondráček, we chose a date when Lukáš performed in Hanover, Germany, where I met him in the evening before the selection and we arrived in Hamburg at night. There we started at nine in the morning…We had the opportunity to choose from 10 instruments, half of which we eliminated relatively quickly. These pianos were rather intimate, they were moderately acoustic. In principle, they were quite similar to the tool already in JFO. In the next round, we narrowed the selection to three instruments. Both men played the same repertoire, alternately lyrical pieces, and music a bit wilder. Finally, two tools remained and were distinctly different. One was really excellent, but I would say too safe. I didn't feel we were picking something special. Only perfect. It sounds a little paradoxical, I know. The other one, the instrument we eventually chose for Ostrava, was very distinctive. I don't think it would be easy at first to touch, but definitely with the greatest sound and colour dynamic range that just makes you tremble. From the beginning, I was a bit afraid of the instrument and wanted it at the same time. I was very pleased that the decision was ultimately quick and unanimous. Besides, it will probably be the first piano in the Czech Republic, which has a special, so-called harmonic damper. A new Steinway & Sons mould patent that gives pianists better and complete sound control with minimal pedal use. Artists such as Grigorij Sokolov cannot claim this technical feature. I am sure that the Janáček Philharmonic Ostrava has obtained an uncompromising world-class instrument. "Jan Žemla describes the purchase details. Lukáš Vondráček adds: "It is a tool best witnessed by a large, romantic repertoire. I think music lovers have a lot to look forward to." Acknowledgements also belong to the City of Ostrava, which granted a special-purpose subsidy for this instrument amounting to half the price of the instrument, which is CZK 4.6 million.
---
---