---
---
Czech soprano Kateřina Kněžíková is clearly a singer to watch
(review is taken from the portal gramophone.co.uk , August 13, 2021, author Hugo Shirley)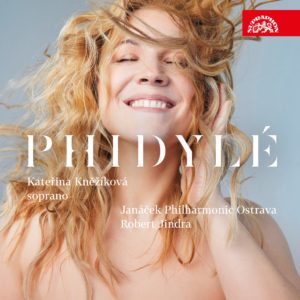 Czech soprano Kateřina Kněžíková is clearly a singer to watch. She sang the title-role in Katya Kabanova at Glyndebourne earlier this summer and has now also released a glorious album of fin de siècle orchestral songs exploring the exotic and the erotic. It's an outstanding showcase of her willowy, seductive voice and natural interpretative skill. The central works on the programme are familiar Ravel and Duparc, but we also have two rarities: Martinů's early Magic Nights (1918) and Szymanowski's Penthesilea (1908).
The Martinů is some way from the composer's mature style but it's a gem. The three five-minute songs that make up Magic Nights set poems from the same source as Mahler's Das Lied von der Erde. Delicate and dreamlike, with glittering celesta-lined textures, they are airier than Mahler's songs, even if the central song, 'Untouched by spring', conveys a moving sense of melancholy.
Kněžíková is superb in them, always in full technical control but with a timbre that, enlivened by seductive vibrato, is ideally soft and warm. With sensuous support from Robert Jindra and the Janáček Philharmonic Orchestra of Ostrava, it's a performance that's more yielding than the only other recording that seems to be available, from L'ubica Rybárska (with the Prague Symphony Orchestra under the late Jiří Bělohlávek).
The soprano is no less successful in the French repertoire, her line always pliant, the voice beguiling and her French idiomatic. She conveys the languid erotic power of the four Duparc songs beautifully, and there's plenty of life in Ravel's Cinq Mélodies – listen to 'Quel galant m'est comparable', for example. There's no resisting the charms of her Shéhérazade either, with wonderfully atmospheric support from orchestra and conductor: 'Asie' is shot through with a tangible sense of sensuous longing, 'La flûte enchantée' is properly languorous and 'L'indifférent' awash with dreamy desire.
Szymanowski's brief Penthesilea is another meditation on desire, all winding counterpoint and post-Tristan harmonic uncertainty, and with a vocal line – rising slowly but distractedly – that Kněžíková's controlled approach suits beautifully. It proves a fitting conclusion to an outstanding album. Highly recommended.
---
---