---
---
Mendelssohn's Concertos & Duets CD review
(review is taken from the portal pizzicato.lu , August 29, 2021, author Alain Steffen)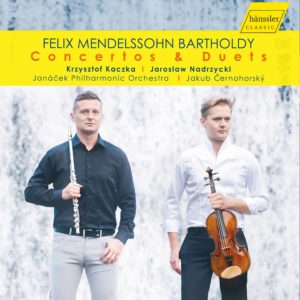 In this recording, an open and transparent sound is entirely in the service of finely polished chamber music. And not only the two excellent soloists, violinist Jaroslaw Nadrzycki and flutist Krzysztof Kaczka benefit from this, but also Mendelsohn's music.
There are rarities to be heard, namely the Concerto for Violin and Strings by the 13-year-old Mendelssohn, the well-known Violin Concerto in the arrangement for flute and string orchestra, and four excerpts from Songs without Words, in this case for violin and flute. The two concertos are conducted lightly and nimbly by Jakub Cernohorsky, and both the violinist and the flutist are given enough space to develop their playing without ever having to force it. The orchestra is impeccable.
Both concertos look very fresh overall, and lovers of Op. 64 will certainly enjoy this colorful and straightforward interpretation and transcription. The performances are in a classical style, which is positive. The chamber music concept really allows the two concertos to breathe freely, and this transparency does the well-known violin concerto in the flute version a lot of good. In the Four Songs without Words, Nadrzycki and Kaczka also harmonize perfectly as a duo.
---
---