---
---
Jan Křtitel Krumpholz
Concerto for Harp and Orchestra No. 5 in B flat major, op. 7
František Vincenc Kramář
Concerto for 2 Clarinets and Orchestra No. 2 in E flat major, op. 91
Pyotr Ilyich Tchaikovsky
Melancholic Serenade op. 26
Pyotr Ilyich Tchaikovsky
Valse-Scherzo op. 34
Josef Haydn
Concerto for Cello and Orchestra No. 2 in D major
Martin Sadílek – harp
Anna Sysová – clarinet
Marek Švejkar – clarinet
Arnau Petřivalský – violin
David Pěruška – cello
Janáček Phihlarmonic Ostrava
Adam Sedlický – conductor
Harps, clarinets, violins and cellos will take centre stage in the opening concert of Cycle E, featuring works by true masters. Jan Křtitel Krumpholz was an important Czech harpist and composer who studied in Paris and worked in Vienna. He composed a concerto for harp and orchestra in 1778 and premiered it himself.
Another of the Czech musical greats, František Vincenc Kramář, was inspired by Mozart and Beethoven. Kramář always had high standards for his musicians as he proves in his Concerto for two clarinets and orchestra.
The Melancholy Serenade belongs to the shorter works of Peter Ilyich Tchaikovsky and is not easy to interpret. Another short piece by this Russian great, Valse-Scherzo for violin and orchestra, composed in 1877, also makes high technical demands on the soloist and tests his talent and technical preparation.
The final word will belong to Joseph Haydn and his Concerto for Cello and Orchestra which he composed in 1783 for Antonín Kraft, cellist of the Esterhazy band. For some time the authenticity of the piece was doubted and it was even said that Kraft wrote it himself. Only when Haydn's autograph appeared in 1951 was his authorship definitively confirmed.
Do not miss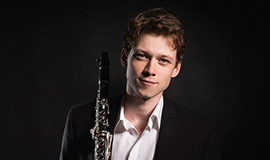 The evening, which will belong to the French and Russian masters, is performed by beginning artists – they will be accompanied by the JFO orchestra under the direction of assistant chief conductor Maroš Potokár.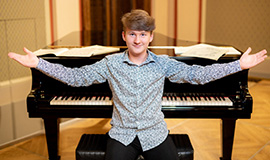 A concert at which young conductors from the Zurich Academy of Music, led by Johannes Schlaefi, will perform together after completing a one-week JPO conducting course.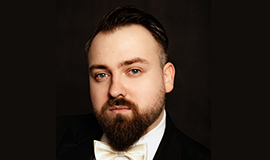 The last concert of Cycle E will bring works by world composers. E. Rautavaary's Incantation will be introduced at the beginning and the end will belong to N. Paganini's Violin Concerto. Sixteen-year-old Korean Boha Moon will take over the solo part.
---
---
---