---
---
Ernest Chausson
Poème op. 25
Jean Françaix
Concerto for Clarinet and Orchestra
Julius Conus
Concerto for Violin and Orchestra in E minor
François Borne
Fantasy "Carmen" for Flute and Orchestra
Matěj Pčolinský – violin
Ondřej Janča – clarinet
Roman Červinka – violin
Alexandra Piskořová – flute
Janáček Philharmonic Ostrava
Maroš Potokár – conductor
The concert at which the orchestra will play under the direction of Maroš Potokár, JPO's chief conductor assistant, will feature French and Russian masters. The opening piece will be Poème by Ernst Chausson who composed during the late Romantic period. Poème for violin and orchestra was composed during his stay in Florence and it is one of the composer's last works, who died young in a tragic bicycle accident.
Composer and pianist Jean Françaix studied music in Paris and worked in Europe and the USA. He is one of the most performed French composers of the second half of the 20th century. He composed his four-movements Clarinet Concerto, which has elements of Neo-romanticism, between 1967 and 1968.
Russian violinist and composer Julius Conus was born in 1869 into a musical family and studied music at the Moscow Conservatory. After the Bolshevik revolution he emigrated to France. He returned to his homeland in 1939 where he died three years later. The Violin Concerto was written in 1898 and is arguably the composer's best known and finest work.
The last piece to be performed is the Fantasy "Carmen" for flute and orchestra by the French composer and flutist François Born. Written in 1900, it is one of his most famous works and is still at the top of the repertoire of flutists throughout the Western world.
Do not miss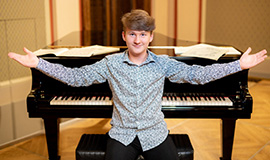 A concert at which young conductors from the Zurich Academy of Music, led by Christoph-Mathias Mueller, will perform together after completing a one-week JPO conducting course.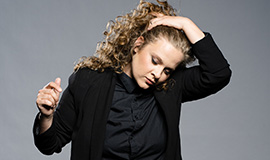 Listen to the stories hidden between the notes and let yourself be carried away by the music of Vivaldi, Rogers or Saint-Saëns. Music is the most sensitive narrator.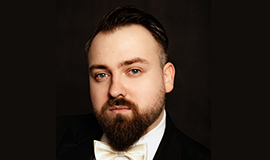 The last concert of Cycle E will bring works by world composers. E. Rautavaary's Incantation will be introduced at the beginning and the end will belong to N. Paganini's Violin Concerto. Sixteen-year-old Korean Boha Moon will take over the solo part.
---
---
---