---
---
JPO goes south in February
Janáček Philharmonic Ostrava will spend the first week of February traveling. They will set out on their first foreign tour this year, playing concerts in three Italian cities (Mantova – 2. 2. 2020, Ponderone – 3. 2. 2020, Bergamo – 4. 2. 2020) which ends with a concert in Basel, Switzerland. The Orchestra, under the conduction of Dmitry Jurowski, will introduce the overture to the opera From the Dead House by Leoš Janáček and Symphony No. 5 in B flat major op. 100 by Sergei Prokofiev.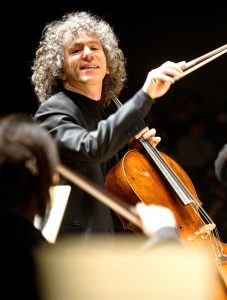 On the tour, the Janáček Philharmonic will have the opportunity to play with one of the most important cellists of the present days, Steven Isserlis (photo Satoshi Aoyagi), who will play the Violoncello Concerto and Orchestra No. 2 by Dmitry Kabalevski.
British cellist Steven Isserlis is recognized worldwide for his profound musical and technical mastery. He has performed as a concerto soloist with many of the world's leading orchestras and conductors, including the Berlin Philharmonic Orchestra, the Washington National Symphony Orchestra, the London Philharmonic, and the Zurich Tonhalle. He collaborates with many contemporary composers and regularly presents new compositions on the international concert scene.
The fifth symphony was written by Prokofiev during World War II, premiered on 13 January 1945 in Moscow. The work radiates a belief in the expected victory, a vision of a better and happier life. Monumental, grandiose and filled with great dramatism, the Fifth Symphony is one of the best heroic Russian symphonies. "In the Fifth Symphony, I wanted to celebrate a free and happy man, his powerful strength, his nobility, his spiritual purity. I cannot say that I chose the topic – it was born in me and needed expression. I wrote music that matured and eventually filled my soul," wrote the author himself.
---
---