---
---
The album Phidylé by soprano Kateřina Kněžíková and JPO won the BBC Music Magazine Awards
The best album in the world in the Vocal Arts category is a CD by soprano Kateřina Kněžíková, conductor Robert Jindra and the Janáček Philharmonic Ostrava, entitled Phidylé. The recording of songs from the turn of the 19th and 20th centuries, works by Bohuslav Martinů, Henri Duparc, Maurice Ravel and Karol Szymanowski, won the BBC Music Magazine Awards, an award given exclusively in the field of classical music.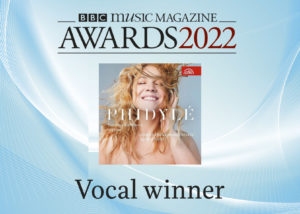 These awards are reserved only for classical music and, unlike most other prestigious awards, the winner of each category is decided by online voting by the general public around the world. Along with Phidylé, another 27 albums from 17 major labels around the world were nominated for the BBC Music Magazine Awards. They represent the best of approximately 175 recordings reviewed in BBC Music Magazine over the past year.
"Winning such an award is a completely unique affair for our orchestra and a success that may not be repeated in the next ten years. Winning this competition puts us in top society and it is a real honor for us. I share great joy with the whole orchestra and everyone who took part in the project, " says Jan Žemla, director of the Janáček Philharmonic Ostrava.
---
---