---
---
The introduction of residency soloist Lukáš Vondráček
From Opava to all over the world, to the most important concert halls, conducted by the most famous conductors … This is the career of the phenomenal pianist Lukáš Vondráček (1986).
He began playing the piano under the guidance of his parents at the age of two and was soon referred to as a child prodigy. At fifteen he made his debut with the Czech Philharmonic Orchestra, at sixteen he performed at Carnegie Hall. He won a number of international competitions, his exceptional position was confirmed by the victory in the Queen Elizabeth Piano Competition in Brussels in 2016. He succeeded as the first Czech pianist in history.
Experts appreciate his virtuoso technique and emphasis on the emotional grasp of the repertoire. It is also very popular among listeners. His performances are really impressive.
Lukáš Vondráček played with JFO for the first time in March 1996. The program included Mozart's Piano Concerto in C major and Mendelssohn's Concerto for Violin, Piano and Strings in A minor. The young pianist was only ten years old. Although he is now touring literally all over the world, North Moravia certainly does not forget him. As part of the opening of the JFO subscription concerts in Opava, Lukáš Vondráček returned to his hometown in 2019 as an interpreter. In the same year, he undertook a concert tour with JFO in Korea.
The logical outcome of this cooperation is the status of a residential soloist for the 2020/21 season.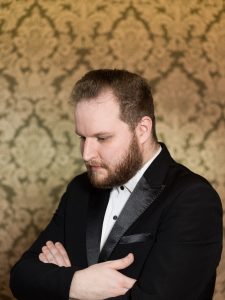 Lukáš Vondráček is not an interpreter looking exclusively at the keyboard. He perceives the world around him, can communicate with listeners swiftly and witty. Evidence of this was also a discussion with the audience before one of the concerts. With the permission of L. Vondráček, we select the most interesting passages from the discussion.
Did you become addicted to music?
We all are addicted to something, but it is sometimes good. And in the case of music, it definitely is positive. Music is such a natural thing to me, just like breathing. I don't consider it to be a job, it is a life journey. There are some obstacles sometimes, but it is worth it.
Do you need any teacher or master any longer? Do you choose your interpretative direction yourself?
Since I've finished studies in the USA, I do not consult anymore. For an artist, it is necessary to set forth to his own journey. There might be some mistakes, but you can always learn something good from them. In terms of music, it is important to make it as personal as possible. Relying on the pieces of advice of others would not make any good.
How does your communication with JFO work? Would they call you and make an appointment?
Nobody would call me because I don't have a cell phone. Most of the communication is through my agent in Germany, who takes care of my concerts around the world. Liaises with the management of JFO and discuss details.
Do you even have time for a private life?
Of course, I have some time. In childhood it was unusual, but if you want to get to the top in any field, you have to rejoice some fun. I don't regret it. I have a tradition that we go somewhere with my friends every year.
Don't you regret not having a normal childhood?
I try to be positive. I don't regret anything. Music gave me so much, although, of course, I had to sacrifice something to her. 
Do you have any special requirements for your concerts?
My only requirement is a towel – I sweat a lot.  The organizers give me cheeses, fruits, maybe wine in the dressing rooms… But before the concert I logically do not want any- and then I leave again. When I'm on stage, there's a lot of energy and adrenaline. A few minutes later the opposite happens, sitting alone somewhere in the hotel room, there is no one to share experiences and thoughts. The contrast is really huge.
You have an excellent memory. How long it takes to forget a composition you learned by heart?
It depends on the difficulty of the song, but I will never forget it completely. I have the advantage that I can recall it very quickly. I have a wide range repertoire, and if I was to recalling song in weeks, it would not work. It takes me approximately two days to recall something I played before five years.
Have you ever forgotten something at the concert, so you had to improvise?
They call me Amadeus from Opava, so it is clear that I can also compose something (laugh). This has happened to everyone, even to the most legendary artists. That's beautiful and human. Art is not about being perfectly perfect, but to speak and mirror our lives.
How do fans react to you?
They write letters, that's nice. We cannot and do not want to match pop stars. In Asia, however, even an hour after the concert stand at the side entrance with plush toys, small gifts and, of course, autograph books. I appreciate it. One day I came across a lady in line for a signature that didn't pull an autograph book but rolled up her shirt.
Do you have insured your hands?
I don't and I probably never will. 
Do you listen to music in your leisure time?
I prefer silence. Even in music I perform, the silence is important. One could not imagine that, but the silence is much more inspiring than loud music of four chords which people listen to a lot.
Some musicians play smaller instruments which they are used to. You play  piano – which means that you have to play on those hosts have. Or do you have the opportunity to choose the instrument?
Sometimes, yes, there are three to five instruments in the world's most famous halls. In the afternoon I come for the rehearsal, they prepare them all for the stage, there is a mechanic at my disposal, and I choose. Sometimes I did it so that when there was Baroque music in the first half of the concert and in the second half of the 20th century, two different instruments could be used. For me it is positive and fun to learn different instruments, I wouldn't enjoy playing all the time.
Do you have any kind of ritual before a performance?
I don't. I love being with people. People tend to think that performers seek for solitude, that they need to focus, but to me it is different. The older I'm, the more nervous I get, so I like being "distracted". 
Did you have any goals? And when did you reach it?
As a musician, you must have the desire or need to grow and learn for the rest of your life. I can never say that it can't be better. I do not think I will ever achieve perfection. As a child, I practiced ten hours a day. Now I am trying to figure out what I am playing and how to express myself. I'm not much involved in technology. 
What are your favorite composers?
Especially the German ones. Piano literature has three main directions – Russian is most understandable to us, it is about emotions and very expressive. French is about sound effects similar to impressionist painters. And German is about humanity, the relationship of man to the universe, dealing with issues between heaven and earth. There are a lot of surprising moments in it, although I've known the song for years, it still keeps me surprised.
What would you be if you weren't a pianist?
I love nature. I dreamt about going to the Himalayas and reaching the 8000 peaks. 
Have you ever tried to compose something?
I have no compositional ambitions, only as a child, I have composed something. For the first four years I learned the piano, I couldn't read music. My parents played something to me – and I repeated it after them. I have an absolute hearing, so I managed quite difficult songs. Since then I have never adhered to the scripts.
But you know the notes, right?
I know (laughs), but as I remember the song, I throw it away quickly.              
In one year you will attend one hundred concerts, you will go to thirty countries. Where do you – except Opava – like to go back?
I like the European audience the most, I find the most learned and attentive. In America, the audience's reaction is spontaneous and energetic, where I like to play. And I love it in Asia. If there were any previous lives, I probably lived there sometimes. I just feel very good there.
---
---