---
---
Tristan and Isolde with JPO was featured in the American Record Guide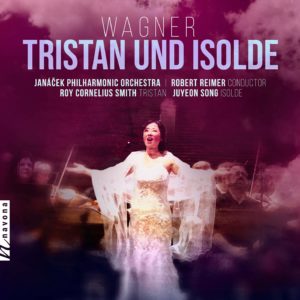 A live recording of a concert performance of Wagner's opera Tristan and Isolde (lasting 3 and a half hours) performed by the Janáček Philharmonic under the baton of Robert Reimer was made in Luslawice, Poland last August. The album is released by Navona Records. This convincing and energetic recording has a chance to be included among the remarkable recordings of this work by Wagner. After all, you can hear for yourself here. And you can buy it on Amazon.
The album was featured in the American Record Guide who wrote that "Robert Reimer draws beautiful playing from the Janacek Philharmonic."
Wagner: Tristan & Isolde
Juyeon Song (Isolde), Roy Cornelius SMith (Tristan), Tamara Gallo (Brangäne), John Paul Huckle (King Markle); Janacek Philharmonic / Robert Reimer -Navona 6321 (3 CD) 211 minutes
It´s hard not to raise an eyebrow when confronted with unabashed hyperbole. Despite scant evidence of affiliations with world-class opera companies, Juyeon Song´s biography reports that she is "rapidly becoming the Isolde of today" and that she has "studied and collaborated with a virtual who´s who of internationally renowned artists". Just who these  "whos" are we are not told. I was circumspect in my judgement of the soprano´s recording of Wagner and Strauss arias on Affetto (N/D 2020). I praised the point and clarity of the sound, but noted a lack of "expansive breadth". Now Navona presents her in a complete concert performance of Wagner´s Tristan und Isolde that helps fill in the picture and also serves to introduce us to other admirable performers.
Hearing Ms Song in a full opera confirms that she has enough fire and stamina to take on a monster role like Isolde. She´sa fine musician, generally on pitch, and there´s a sweet spot around G above the staff where the voice really blossoms. Elsewhere, it´s not as rich, and the lower part of the range can take on a somewhat "bottled up" quality reminiscent of the sound Callas used to employ for effect. Nowhere is the voice harsh or offensive, but neither is it particulary sensuous or enveloping. That said, singing Wagner is a little like running a marathon: it´s quite an accomplishment just to follow the rules and make it to the finish line.
The rest of the cast is all Americans who left their native country for greener pastures in Europe. Roy Cornelius Smith and Brian Davis had careers singing small roles at the Metropolitan Opera before making their moves. For both, it was unquestinably the right decision. Like Ms Song, Smith´s tenor is not particularly sumptuous, but it´s a very expressive instrument; and his sure sense of drama brings Tristan´s text and music to life with engaging spontaneity. He can summon tonal beauty when necessary (in the long legato lines of 'O Konig, das kann ich dir nicht sagen', for example), and his account of Tristan´s 'Delirium' scene in Act 3 is quite moving. Davis is even more impressive. His Kurwenal is voiced with a big, warm baritone that is even and supple. His straightforward delivery and vocal refinement project Kurwenal´s benevolent strength of character. Mezzo-soprano tamara Gallo´s Brangane is also well sung, with a full tone and the right maternal manner. Alexander Kaimbachter´s wooly bass evokes King Marke´s air of weary age.
The German conductor Robert Reimer draws beautiful playing from the Janacek Philharmonic. Transitions are smooth, and instrumental interplay is gentle. Other conductors have found sharper edges in the score, but this kind of sonic homogeneity is a valid aesthetic choice and Reimer makes it work. The various off-stage horns and voices are handled well, giving the listener a palpable sense of space.
ALTMAN
---
---