---
---
Vassily Sinaisky: Nationality is not important for the interpretation of music
Interview of Alena Sojková with JPO chief conductor Vassily Sinaisky for Harmonie I / 2021 magazine.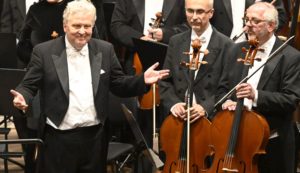 I met with Vassily Sinaisky at the end of September in Ostrava, shortly before his inaugural concert in his new role of the chief conductor and music director of the Janáček Philharmonic Orchestra. He radiated enthusiasm and desire to work with the orchestra, of which he became very fond during his past guest appearances. We talked about how the coronavirus affected the music life during spring, while we had no idea how it will influence the upcoming season. Many of the chief conductor's plans were ruined, but we have hope that most of them will eventually be realized. Seventy-three-year-old Vassily Sinaisky, Russian native coming from a small city called Inta, now living in Amsterdam, is a very nice companion who speaks of Czech music and Czech performers with fondness.
How was the uneventful spring for such an active person as you?
The life of a conductor is full of concerts, rehearsals, meetings with players… When you do things like this every week, you are in a good shape. If you have a demanding schedule with recording on top of that, it serves as an excellent training – especially for your concentration. The basis of everything is to be constantly active. What happened during the months of spring was terrible. Concerts were cancelled and the life stopped. Yes, it can be argued that we conductors, unlike players, have the advantage that we can study scores, listen to the recordings…, but that is just a preparation, just a small part of our work. The main part is when the conductor comes to the orchestra and can work with it. Some may say it was a good time of rest for a man of my age. Yes, it was. But only for the first month. The last concert I conducted was on March 15th. After half a year without active work, you feel not only frustrated because the music is so far away, but you also experience deep depression internally. It was a really hard time.
Soloists and chamber ensembles could at least stream their concerts, but the conductors?
Exactly! We need a big orchestra. During the spring alone, twenty concerts I was to conduct were cancelled. All over the world – USA, Brazil, Hong Kong, China and of course concerts in Europe too. But I will not pity myself. There are so many musicians who lost their jobs! The Metropolitan Opera has cancelled their entire season, art agencies have reduced their activities. All this has a huge impact on the existence of artists and their future.
But now, at the end of September, you are here in Ostrava, about to conduct the inaugural concert. Why did you choose to work with the Janáček Philharmonic Orchestra in Ostrava?
We started thinking about cooperation back in December 2018, when I was in Ostrava as a guest for the first time. Britten, Shostakovich, and Franck were on the program, nothing easy. I was very surprised at how quickly the orchestra understood the music, how well they "read" it. They played César Franck's symphony with such pleasure, with Slavic warmth, and an open heart. These were happy moments for me. Last season, the Janáček Philharmonic management invited me again, this time for the opening concert. We agreed that I would also present Czech music. We chose Suk's Fairy Tale, which I did not perform until then. Of course, I knew Suk's compositions, but I never performed Fairy Tale before, so it was a very attractive offer for me. I spent a lot of time reading the score. When we started rehearsing with the orchestra, I saw that the players perceived everything I had discovered in the score and I felt that they were very open to my interpretation. The players understood that, and I was very impressed. That is when we suddenly started talking about the possibility of me becoming the chief conductor of Janáček Philharmonic Orchestra.
So, we can say it was love at first sight between you and the orchestra?
I do not know if it was love, but it definitely was mutual respect. What more could a conductor want than players who smile during rehearsals and follow the conductor. What more, they did not only follow me, but they also developed my thoughts. Whatever they played sounded completely natural.
You also conducted the Czech Philharmonic many times, you know its history very well and especially the conductors who led it in the past. I think you met with Václav Neumann in Leningrad for the first time…
I remember Neumann from the time he came to Leningrad with the Czech Philharmonic. I was a student back then and I remember they played Slavonic Dances and Dvořák's Symphony No. 8. It was a huge success. At that time, I studied composition and conducting, and we went to see him with my classmates after the concert. He was incredibly kind, and he signed the program for us.
And what about some other conductors of the Czech Philharmonic? How did they affect you?
I own all the recordings of Karel Ančerl with the Czech Philharmonic. And a few years ago, when I was in Japan, I bought a box of 48 CDs with recordings by Václav Talich from the 1920s and 1930s – from Slavonic Dances to the Symphony No. 9 – all in a very good sound quality. I am very proud to have all the recordings of these two excellent conductors! By the way, do you know František Stupka?
Wasn't he the conductor of the Czech Philharmonic for quite a long time?
Yes, from 1919 to 1946. He is not as well-known as Talich, but he interpreted Dvořák excellently. Supraphon has published eight of Dvořák's symphonies together with the Czech Philharmonic and František Stupka. It is one of the best Dvořák's recordings.
It looks like you own a very extensive discography…
Yes, I own fourteen recordings of My Fatherland with various conductors, such as Lovro von Matačić, but especially with Czech artists. For example, I really like Václav Neumann's recording with the Japanese NHK Symphony Orchestra. It is excellent.
For me personally, one of the best interpretations of My Fatherland is the Talich's one from 1939.
I understand, I know this one too. Why do you like it so much?
It is full of big emotions. Threats to the homeland, helplessness, anger, determination…
I agree, it is very emotional. But let me tell you something interesting. Karel Ančerl left Czechoslovakia after the Russian invasion. It is very painful for me, a Russian, to talk about it. However, Ančerl spent several years after that in Toronto. And I have all his recordings with the Toronto Symphony Orchestra. From Dvořák through Smetana's The Bartered Bride to Mahler, Beethoven, Mendelssohn, and so on. When I was in America, I also discovered live recordings of his rehearsals in Toronto. They are very interesting because of how Ančerl understood music. He was able to explain Czech music to Canadian musicians so well, it is unbelievable.
But that is the essence of the conductor's work, to be able to pass this on.
Sure. But the most important thing is to be able to reveal the soul of music. Yes, you have the score, and everything is written there. The pace, dynamics… But behind all of this, there is the spirit, soul, thoughts… Musicians must understand this, and we conductors help them with that. Let me use Karel Ančerl as an example again. Among other things, Tchaikovsky is on his recording with the Vienna Symphony from the time when Karajan led it. We Russian musicians think that we understand Tchaikovsky the best, but I find this recording of Ančerl to be extremely interesting. I have never encountered such originality before. It is very far from the Russian concept, but it is excellent. What I want to say with this? I do not think nationality is important for interpreting music. There are many Russian recordings of Tchaikovsky that are bad and boring.
We are talking about the conductors of Czech Philharmonic, so I must ask about Jiří Bělohlávek. You knew him very well.
I respect Jiří very much. We met in England, where we both worked for a long time. Jiří worked for the BBC Symphony Orchestra, I worked for BBC Philharmonic Orchestra. In addition to his other recordings, I really admire his recordings of Dvořák and his conception of Martinů. However, I was extremely impressed by his presentation of Suk's Asrael. It is my dream to perform this incredibly hard symphony one day.
Maybe your dream will come true here in Ostrava. What are your plans for this season?
We talked a lot with the management of the orchestra about my tasks, and what I should bring to the orchestra. One of the priorities is to show the orchestra in different musical styles. I have already mentioned how well they played Britten or Franck last year, and for my inaugural concert this year, we chose Stravinsky and Richard Strauss. Verdi's Requiem performed with the Philharmonic Choir of Brno was to follow. By the way, this is an amazing choir that I admire very much, and I would like to perform Dvořák's Stabat Mater oratorio with them at the beginning of the next season. The planned concerts also include a New Year's concert, which – I hope – will take place online on January 13th. The program is based on the works of Johann Strauss Jr. It looks like light and fun music, but only at first glance, because to play it in the way how they do in Vienna is a very tricky task. At our last concert of this season in Ostrava – on February 11th – Brahms' Piano Concerto No. 2 with Lukáš Vondráček will be performed. This is a challenge not only for the soloist, but also for the orchestra and I am very much looking forward to it. In the second half, Shostakovich Symphony No. 10 will follow, the quintessence of his work. As you can see, it is very diverse music and for the orchestra it means many tasks they will have to deal with again and again.
The principal guest conductor of the Janáček Philharmonic is a young Czech conductor with an excellent reputation, Petr Popelka. Have you had a chance to meet him?
Now that we are talking, at the end of September, we have not met in person yet, but I heard only the best about him from the director Jan Žemla. What is important to me – Petr is a double bass player, so he knows the orchestra from both sides. Not only as a conductor, but also as a player. And that is a big advantage.
You are also a pianist.
Yes. I also studied the violin and double bass for a short time.
Let's talk more about your youth. I heard that thanks to your uncle, you gained a very close relationship with Czech culture. How did that happen?
My uncle lived in Leningrad and he was a very good pianist. He loved Czech culture and Bohemia so much he started to learn Czech language. He had no teacher, he learned it from books. He was so talented he soon spoke fluently. He also had many Czech friends who lived in Leningrad and he invited them home often. I learned a lot about Czechoslovakia from them. We talked about the terrible August 1968. It was a very hurtful experience for all of us. My uncle was completely devastated by the events that happened in 1968. He did not believe in propaganda. I remember how upset he was. When the borders opened in the 1990s, the first country he visited was the Czech Republic. At the end of his life, he did not have much money, but he visited Czech Republic every summer. He loved small Czech towns and the Czech countryside. After all, he learned a lot from Czech books, which he read in their original language. His favourite author was Karel Čapek. He knew Czech literature very well, although it was difficult to find some in Russia during the Soviet times. But he was able to access it thanks to his Czech friends. He influenced me a lot – in the approach to Czech literature and especially to Czech music. I also met with many of his friends later. Some of them were members of the Czech Philharmonic.
You also have friends among Czech musicians…
You are right. For example, Václav Hudeček, who often visited the Soviet Union to meet with David Oistrach, is a long-time friend of mine. Let me tell you something. I consider his recording of Tchaikovsky's Violin Concerto to be one of the best in the world. He acquired a wonderful technique from David Oistrach and he also put his personality into it.
Do you come from a musical family?
My parents were not professional musicians, but they loved music and they were amateur musicians. However, my paternal grandfather and great-grandfather were choirmasters in Russian temples.
When and why did you decide to become a conductor?
I was about fourteen, I played the piano very well and I knew I wanted to pursue music. I was just hesitating between studying the piano or musicology. But that changed after one concert by the Leningrad Philharmonic conducted by Kurt Sanderling. I went to that concert to listen to listen to some great pianist performing a piano concerto, and I left totally impressed by the symphonic sound and with the determination to learn as much as possible about the work of a conductor.
How old were you when you started studying at the Leningrad Conservatory?
I started at the usual age – around eighteen. Before that I studied a special music school. I belong to the happy generation that was taught by Ilya Musin. His students were, for example, Semyon Bychkov, Valery Gergiev, Yuri Temirkanov… A very strong group of people. Mariss Jansons and Neeme Järvi were also my classmates, but they switched to Rabinovich later.
Were you friends as classmates, or was there a rivalry between you?
Friendly relationships clearly dominated. After all, we were students, and we were debating about music all the time. We went to concerts together and we talked about the interpretation we heard that evening for a long time after that. The debates were very insightful and full of many different views.
You belong to a very strong generation that had the privilege to be taught by legendary teachers…
You are right, but it all ended with Musin's death. His era was unique, and it faded together with his departure.
How do you remember Mravinsky, who was the principal conductor of the Leningrad Philharmonic for a long time?
For me, Mravinsky was one of the musical gods. However, as a human being, he completely closed himself off and he did not let anyone in. He made no contacts, only his assistants could reach him. We know from the members of the orchestra at that time that he was very strict and the way he worked was very interesting. During rehearsals, he worked on details to exhaustion and he was known for his perfect preparation. He was famous for his perfect knowledge of the score. Moreover, for an experienced musician like me, it is extremely interesting how the orchestra sounded different every single time. It sounded different when they played Mozart, and it sounded different when they played Tchaikovsky or Brahms or Shostakovich. It was a completely different orchestra! And to achieve this is not easy at all. He tried to find something new in every composition every time he performed. And he was very good at it. A long time ago, I heard his interpretation of Tchaikovsky's Symphony No. 5. When he performed it again the next season, it was a completely different performance with many new details. This is very difficult! And it is a great mystery of music.
In 1973, you won a gold medal at the Karajan Conducting Competition. What followed?
Of course, many new opportunities. Because of the gold medal – and it is not different today – many world's most important music agencies show interest in you. Invitations to many world orchestras follow, even though your name was totally unknown until then. And the most important thing is that success in such a competition will give you confidence and you will begin to believe in what you do. Moreover – there are many other prestigious competitions for young conductors, but the name Karajan opens the door for you.
At the time you won the competition, Karajan was still alive. Did you two meet?
We did not. He was also a very closed off person. Of course, he kept a perfect track of all the competitors, and he was in direct contact with the members of the jury, but he himself did not sit on the jury. However, during the fifth round, when we conducted the Cologne West German Radio Symphony Orchestra and the Berlin Philharmonic and only the jury sat in the hall, Herbert von Karajan sat on the balcony which was constantly locked. And we were very aware of that!
We could also talk about your work in Latvia, Malmö, at BBC Philharmonic. Which of the orchestras do you have deep in your heart?
All of them. And do you know why? During your youth, you see everything as a unique opportunity. I conducted my first professional orchestra in Riga. I spent seventeen years with them, and we did a lot of work together. I was also the guest conductor of the Netherlands Philharmonic Orchestra. They also perform at the Cocncertgebouw, where I played many unforgettable concerts. But to be honest, the first place belongs to Riga, and the BBC Philharmonic comes second.
You made several interesting recordings. For example, with the orchestra in Malmö, you worked on not so well-known artists – the Austro-Hungarian composer Franz Schmidt and the Austrian Jewish composer Franz Schreker.
They are great musical personalities. Unfortunately, they are not so well-known. Their music is very interesting, although not very easy.
The Prague audience heart Schmidt's probably most famous work – an oratorio The Book with Seven Seals – in 2012, performed by the Czech Philharmonic Orchestra and conducted by Manfred Honeck. A very powerful experience, if I remember correctly. Why do you think the works of these composers appear only very sporadically in the dramaturgical plans of orchestras today?
Well, Schmidt's symphonies – he wrote four like Brahms – are fairly well-known. His Symphony No. 2 and Symphony No. 4 are performed from time to time, but they are still overshadowed by works of composers such as Richard Strauss and by other composers of great symphonies.
In my opinion, the music of Nikolai Myaskovsky has a similar fate.
It is really interesting with Myaskovsky's work. His works are performed a lot in Germany and Great Britain. I performed his works myself with the BBC Philharmonic, but for example in Russia, he is almost forgotten. It is a pity and I do not understand it.
You were the chief conductor of the Bolshoi Theatre in Moscow. Your sudden resignation in 2013 attracted a lot of attention. Can you clarify the situation? What happened?
The explanation is quite easy. I was very happy to be the chief conductor and the music director at the Bolshoi Theatre. I spent more than three seasons there and the work started off perfectly. But then a sudden twist came. I must point out that the Bolshoi Theatre is very closely linked to the government and the people around Putin. They suddenly decided to change the director of the theatre. Everything happened very quickly, which is usual for Russia. One day, the old director was there and the next day, a new one came. This happened in June. I was in Amsterdam at the time and when I came back to Moscow, I was very surprised. The new director contacted me, and I quickly realized that we are not on the same wave. He is a bureaucrat, not an artist. I knew immediately that we would not get along well. This happened in September and I was more and more disgusted by further developments of the situation. On top of that, the opera playwright was dismissed, and I could not get over it. I realized that I could not connect my future with the Bolshoi Theatre, and I resigned.
What are your current wishes and expectations?
There have been so many pseudo-conductors lately that our profession lost its uniqueness it had, let's say, twenty years ago. Many conductors my age, but even younger ones, would tell you the same thing. Neeme Järvi, Semyon Bychkov, they would all agree with me. Many amateurs appeared in our profession. But first of all, conducting is not a job for amateurs. Second, I support this somewhat old-fashioned view that only live music is the real one. Only live music can affect our emotions. CDs, TV broadcasts or streams that are very popular today cannot affect and influence us that much. Only life music has a chance to awake the best in us.
Alena Sojková
---
---