---
---
Sales of the 70th concert season begins
Janáček Philharmonic Ostrava (JPO) celebrates 70 years. The world-class orchestra enters the new concert season full of energy and expectations. Although it has already had a year of provisional operation, with many concerts taking place in the hall of the former Vesmír cinema and rehearsals for challenging musical projects taking place in one of the pavilions at Černá louka, the JPO maintains a high European reputation. The orchestra opens the new decade in the best artistic form, with a dramaturgy that can easily withstand international comparison, and with the dream of a concert hall with adequate acoustic parameters coming true.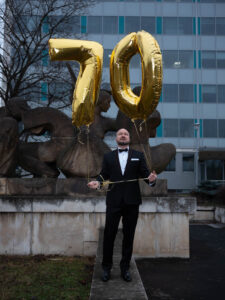 "We have prepared a season that will be outstanding. In all our concert cycles, visitors will hear world-class artists, experience conductor debuts, become part of world and Czech premieres, have the opportunity to attend interactive workshops and participate in educational activities and lectures aimed at all generations," says Jan Žemla, director of the Janáček Philharmonic Ostrava.
Lovers of popular music will once again enjoy the philharmonic concert cycle in the multifunctional Gong Hall and the JPO will also join the celebrations of the two hundredth anniversary of the birth of Bedřich Smetana in the form of a concert performance of his opera Libuše..
"We have adjusted the programme to the jubilee season and selected exclusive guest artists. Looking at the programme now in retrospect, I am confident in admitting that we are in for a great season with no weak spots. We have a lot to look forward to," adds Jan Žemla.
Also in the new season, the Janáček Philharmonic Ostrava will collaborate with contemporary composers. "It is a whole process of mutual cooperation, where composers are part of the rehearsals as well as the actual concert performance of their compositions," explains Žemla.
PROGRAMME OFFER OF THE 70TH CONCERT SEASON 2023/2024
Dozens of concerts traditionally divided into thematic cycles, plus special concerts, activities for schools, seniors and future professional artists. The Janáček Philharmonic Ostrava has long crossed the boundaries set for the genre of classical music. Even in the new season it proves that its concerts and activities are for everyone without exception.
Symphonic cycle A
Symphonic cycle B
Cycle C – What we love
Cycle D – For Kids
Cycle E – Young spirit
Cycle G – Gong series
Cycle K – Chamber Concerts
Cycle R – Piano Recitals
Extraordinary Symphonic Concerts M
Cycle O – Opava Concerts
For a specific offer of individual cycles and further details, please visit www.jfo.cz/en.
---
---