---
Chief conductor's assistant
Maroš Potokár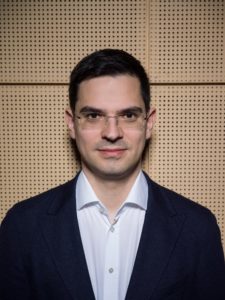 In foreign countries, the assistant to the chief conductor is a common part of the orchestra, in the Czech Republic this position is still rather rare. Since 2021, Maroš Potokár has occupied this position in the JFO, naturally connecting the orchestra with the conductor. He prepares the orchestra for the conductor's arrival, facilitates the communication between the orchestra members and the conductor and is responsible for a number of other important tasks. This past season, you had the opportunity to meet him as conductor of one of the moderated concerts in our C cycle. Together with the actress Markéta Matulová, he helped our listeners overcome various fears and prejudices associated with classical music concerts. We are continuing this collaboration this season when the two of them will guide us through all four concerts of this series together.
Maroš Potokár was born in 1982 in Slovakia and studied violin and conducting at the Košice Conservatory. He also studied at the Academy of Music Arts in Bratislava and at the Janáček Academy of Music Arts in Brno. In addition, he attended a masterclass with renowned conductor Zsolt Nagy, a professor at the National Conservatory of Music and Dance in Paris.
As a conductor, he has performed with various orchestras, for example with the Prague Philharmonic, the Philharmonic Orchestras in Brno, Zlín and Olomouc, the Janáček Philharmonic Orchestra in Ostrava, also in his home town of Košice and with the Žilina State Chamber Orchestra. Since 2013, he has also participated in a number of opera and ballet productions at the State Theatre in Košice, the Slovak National Theatre in Bratislava and the National Moravian-Silesian Theatre in Ostrava. As a violinist during his studies, he became concertmaster of the State Philharmonic Košice in 2007 and is still a regular soloist there.
---
---
---
---