---
---
We have recorded CD with Simon Trpčeski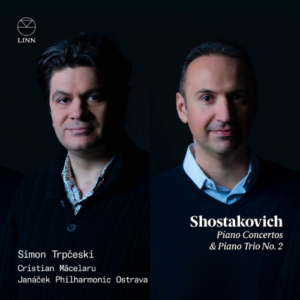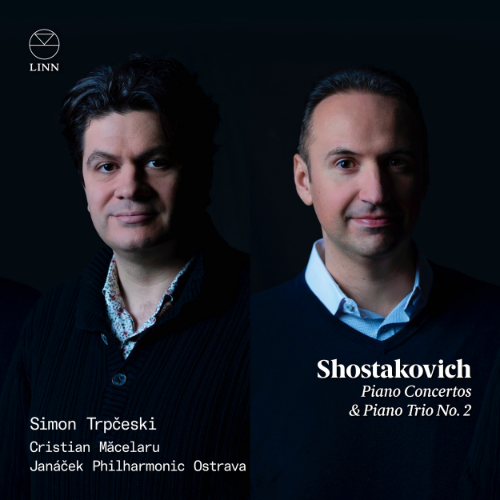 The CD, which we recorded together with Simon Trpčeski and conductor Cristian Măcelaru in August last year, is heading for distribution. The recording of Shostakovich's piano concertos will be released by the Linn records and will be available from May 28, 2021.
"Recording is one of the core activities of the orchestra, and during the pandemic it is all the more important, let's say. I really appreciate the possibility to make this CD. Simon Trpčeski invited conductor Cristiano Măcelaru to the joint recording with JPO – he would not have the opportunity to come to Ostrava under normal circumstances due to his workload. At a time when it was necessary to cancel or move the vast majority of projects agreed in advance, these little miracles are a joy for us, " adds the manager of the JPO Ondřej Daněk.
Below you can find a review of Shostakovich from MusicWeb International:
The three works on this disc give us three different versions of Shostakovich: the First piano concerto comes right from the end of his young Turk phase, brought to a terrible end by Stalin's condemnation of his opera Lady Macbeth; the gritty war time composer fresh from writing his mighty 7th and 8th symphonies when he penned the second of his piano trios; and finally an unexpectedly smiling composer in the Second piano concerto, Shostakovich the family man writing a work for his son, Maxim, to play.
Right from the opening theme of the first movement of the First concerto, Trpčeski announces that he is his own man. He takes his time over the melody where others seem anxious to get to the fastest music that follows. In fact, so common is rushing this melody that at first I wondered if Trpčeski was being a little self-indulgent. He wasn't, and this tender, somewhat introspective way anchors the music so that it doesn't just become clever but a little soulless bravado. He is equally delicate with the return of the second subject later in the same movement.
But how does he compare to his rivals? The answer is very well indeed.
Argerich, who, in characteristic fashion, has recorded only the First concerto takes things very seriously indeed (Warner 5045042, with Piano Quintet, download only, or DG E4398642, with Haydn: CD and download – review of box set, now download only). It is a very forceful account but lacks the dry wit essential to all Shostakovich, let alone this very arch work. By contrast, the composer's own recording plays it with a very straight face which certainly works in the almost Chaplinesque passages in the outer movements (Warner 5626462, with Concerto No.2). It took Alexeev in the 80s to bring out both the fun and the warmth in both concertos but particularly in the First – review – review: budget-price CD and download, with Concerto No.2, etc.
Special mention needs to be made of Andrei Kavalinski's superb contribution on trumpet to this Linnrecording of the concerto. He has a mellowness to his tone which I think suits Shostakovich's mordant humour to a T. What makes him stand out from his rivals is his haunting, muted contribution to the slow movement. Just a hint of jazz, echoes of a military bugle, but, above all, superb artistry. He and Trpčeski clearly have considerable rapport and relish every second of their japes in the finale. I have heard the last bars done with greater force but seldom with greater humour.
Initially, I was not wholly convinced by the trio coupling on this disc but, to be honest, any reservation is largely irrelevant when we are dealing with a performance as good as that of Trpčeski and friends. It represents much more substantial fare than these concertos are usually coupled with. The recording helps a great deal: excellent in the concertos, it is uncannily vivid in the trio. At the opening of the finale, the recording catches the intensity of the playing in almost ideal fashion.
Argerich with Kramer and Maisky on DG, as befits such a starry lineup, play this as if it was one of the symphonies (E4593262, with Tchaikovsky). It is a fine performance but for me they miss some of the interiority I hear on the Beaux Arts Trio's benchmark recording (Warner 2564625142, with Trio No 1 etc.). If you know that recording, all I need say is that this new version is as good, if different in approach. Both take us deeply into Shostakovich's private inner world. I tend to associate the Beaux Arts with the Viennese classics, so it was a delightful surprise to hear them, particularly their first violinist, really dig into this music in true Russian style.
Trpčeski and his colleagues (and this is a genuine ensemble, not a soloist with support) are intent on bringing out all the strange and delightful effects littered throughout the score. Try the ghostly 'squeeze box' opening and the almost Philip Glass like music that follows. Poise and intensity are the words that come to my mind. This links back to Shostakovich the cocky wunderkind who could mix it with the most modern of modernists. This makes a refreshing change from the Stalinist grey severe Shostakovich we too often hear. It also challenges my initial fears that this is a slightly mismatched programme. This is one of the composer's finest works, so my advice would be to get both this version and the Beaux Arts.
Trpčeski and Macelaru set off in the opening movement of the Second piano concerto at quite a lick. Not quite as brisk as the composer's own recording but not far off. Shostakovich's recording, as with the first concerto, plays it very straight and tends to emphasise the motoric rhythms rather than linger on the poetry. I do feel Alexeev's more reflective approach gets more out of music and Trpčeski seems intent on trying to fuse both approaches and, largely, he succeeds. I enjoyed the tangy, characterful woodwinds of the Janáček Philharmonic Ostrava almost as much as I did those of the Paris Conservatoire Orchestra under André Cluytens for the composer.
The key to any account of this work is the slow movement. It shouldn't sound like a Rachmaninov pastiche but a wry homage, one done with affection, devoid of cynicism. Too fast and it is in danger of becoming trite, too slow and the risk is inappropriate seriousness. Trpčeski flirts with the latter but his bright-eyed sense of wonder saves the day. Alexeev again seems to get things just right. His recording still sounds remarkably well and will need to be in the collection of any serious collector. That Trpčeski runs him close speaks volumes for these splendid performances.
As with the finale of Ravel's piano concerto, the trouble with Shostakovich affectionately parodying technical exercises is that in the wrong hands they can sound just like technical exercises. A cheeky wit is needed to make the finale really fizz. Partly this is a matter of rhythmic emphasis. Shostakovich's constantly shifting accents need to really sound if the Hanon exercises the music is based on are to be successfully undermined. Anyone who gets flashbacks to dull hours spent hammering out Hanon will be delighted to hear that Trpčeski's sly humour demolishes them very satisfactorily! The Janáček Philharmonic are suitably rough and ready here, too. I mean them no disrespect in saying this, as they are polished as anyone in the slow movement.
The performances of the concertos alone would make this a highly desirable disc. Add in what has now become my yardstick recording for the Second Plano Trio and you have a real winner.
David McDade
---
---